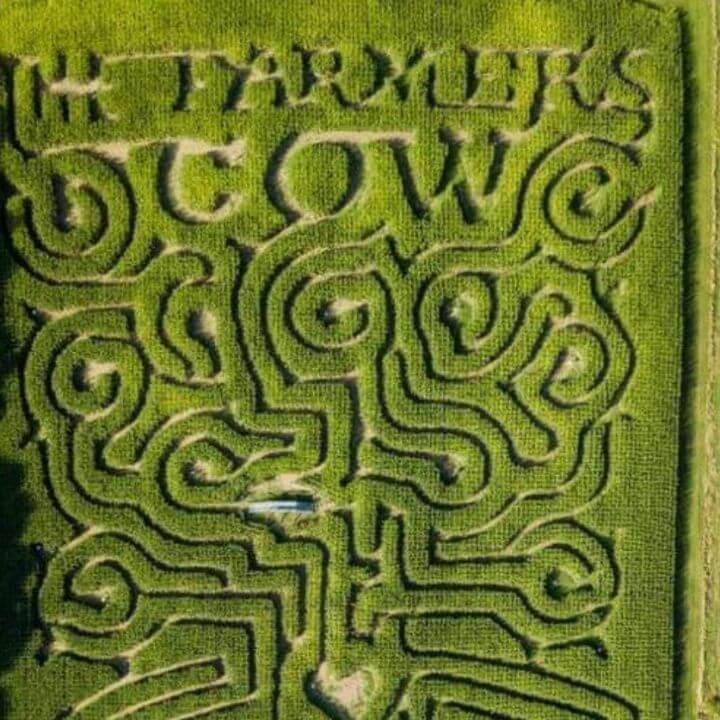 2022 Tree of Life Maze
OPEN UNTIL OCTOBER 31, 2022
Did you know that Frederick Law Olmsted and Fort Hill Farms have a DEEP connection?!?!  Come be aMAZEd at the view inspired by Olmsted as you walk our 2022 seven-acre "Tree of Life" corn maze .  Find out why he is called the "Genius of Place" and why Fort Hill Farms exudes such solitude and "unpeopled" nature.
We pride ourselves on having a challenging maze – but not frustrating!  For a shorter experience, burrow through our Root of Tree maze.
Enjoy the corn maze at night under the stars and moon on our FLASHLIGHT NIGHTS.  Remember to dress warmly as it gets cold when the sun goes down.  Call for appointment if you wish to come past closing times on the weekdays.
NO entry without a ticket or appointment!  Fort Hill Farms Corn Maze is designed to give everyone a fun and enjoyable experience.  In order to have time to complete the game sheets, we limit the number of people in the corn maze at one time.  Always call ahead, if you would like to come earlier, do flashlight night on a weekday or come as a group.
No pets, alcohol or disposable bottles, please!
For questions, call or text 860-234-1153.
Follow us on Twitter and #cornmaze your experience.
Check our Facebook page.
Hours and Rules
Last ticket sold
90 MINUTES 
before closing
Monday through Thursday:
10:00am – 7:00pm
Friday and Saturday:
10:00am – 9:00pm
Sunday:
11:00am – 9:00pm
Weather permitting
NO pets, alcohol, or disposable bottles allowed
CALL AHEAD or purchase ONLINE TICKETS
Tree of Life Maze
Recommended for ages 8 and over
90 minutes to complete
Children under 12 must be accompanied by an adult
$15 per person (all ages)
Flashlight Night
From sunset to closing
Bring a flashlight
Dress warmly
Ages 8 and over
$16 per person (all ages)
Root of Tree Mini Maze
30 minutes to complete
Children under 12 must be accompanied by an adult
$5 per person (all ages)